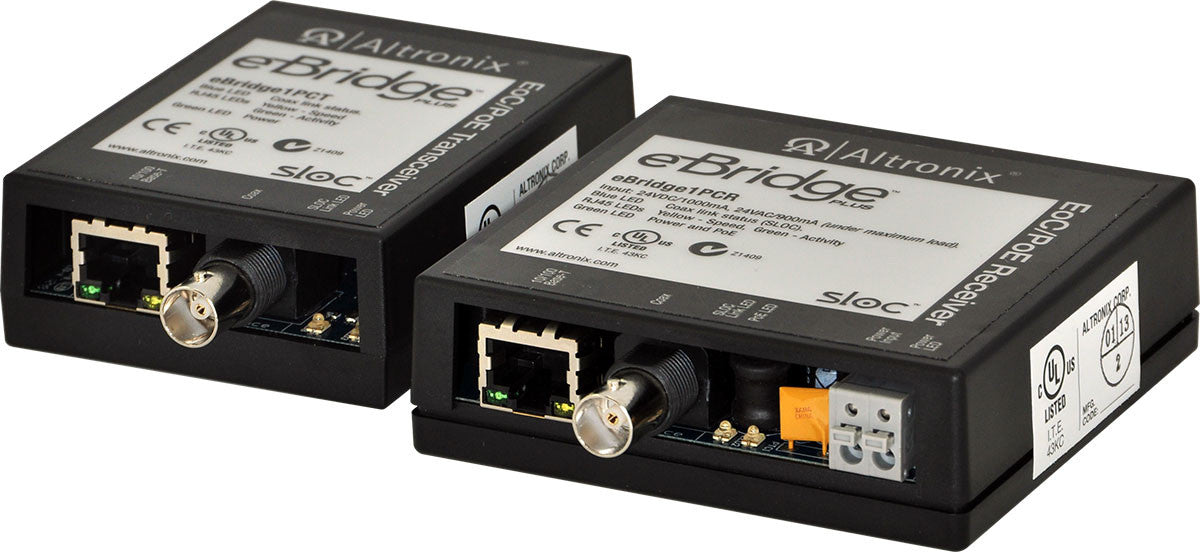 Altronix EoC Single Port Transceiver 25Mbps Passes PoE/PoE+ from Receiver Requires Compatible Receiver - EBRIDGE1PCRT
Sale
Sale
Original price
$288.00
-
Original price
$288.00
Input
24VDC Class 2 power supply (polarity not observed) or 24VAC Class 2 plug-in transformer.
Power Consumption (under maximum load)
eBridge1PCR:
24VDC/1,000mA or 24VAC/900mA.
eBridge1PCT: Powered by eBridge1PCR.
Ethernet
Connectivity: RJ45, auto-crossover.
Wire type: 4-pair CAT5 or better structured cable.
Distance: up to 100m.
Speed: 10/100BaseT, half/full duplex, auto negotiation. PoE compliant to IEEE 802.3af (15W) delivered to camera by eBridge1PCT.
Power provided by eBridge1PCR to eBridge1PCT by PoE protocol.
Coax
Distance: up to 500m (see Maximum Length of Coax Type vs. Camera Power/PoE Class, pg. 3) for power delivery of coax.
Throughput is rated to pass 25Mbps of data at distances up to 500m. With proper headend equipment this supports Megapixel, HD720, HD1080.
Connectivity: BNC, RG-59/U or similar.
LED Indicators
eBridge1PCR:
Blue LED - Coax link connection.
Green LED - PoE ON.
Green LED - Power ON.
eBridge1PCR (RJ45): Yellow and Green LED IP Link status, 10/100Base-T/active.
eBridge1PCT:
Blue LED - Coax link connection.
Green LED - PoE from eBridge1PCR