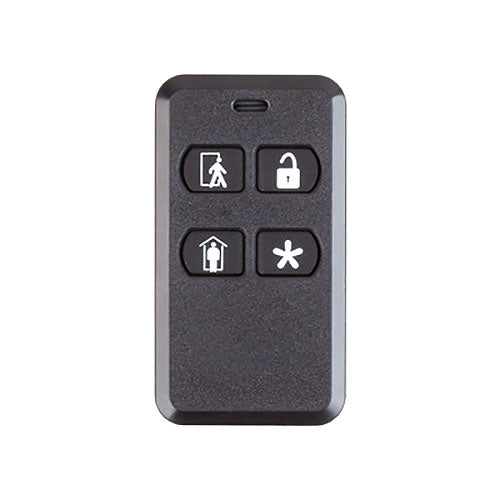 2GIG 4-Button Keyfob Remote with 5 Year Lithium Battery Compatible with 2GIG Control Panels (KEY2) - 2GIG-KEY2-345
Sale
Sale
Original price
$0.00
-
Original price
$0.00
The 2GIG 4-Button Keyfob Remote (2GIG-KEY2-345) communicates with the 2GIG Control Panel on the 345 MHz frequency. It gives users the ability to turn the security system ON and OFF before entering the home or after exiting. If there is an emergency, you can turn on the siren and automatically call the central monitoring station.
Keyfobs can be programmed to operate the programmable output in the Control Panel. Use with the 2GIG Universal Garage Door Receiver (2GIG-GDR1-345) to open a garage door. The keyfob is a lithium coin battery-powered, wireless keyfob designed to fit on a key chain, in a pocket, or in a purse.
Benefits
Arms system in STAY or AWAY mode
Disarms system
Auxiliary output and emergency functions
Main Features
Includes: (1) Four-Button Keyfob Remote, (1) Key Ring, (1) Lithium Coin Battery
Lithium coin battery with 5 years life
Trigger panic alarms
Turn system-controlled lights on or off (via the open collector output)
Use with the 2GIG-GDR1-345 to open a garage door
Wireless Signal Range 350 ft (106.7 m), open air, with Wireless Control Panel
Code Outputs: Arm; Disarm; Panic; Relay Control
Transmitter Frequency: 345.00 MHz (crystal controlled)
Unique ID Codes: Over one (1) million different code combinations
Supervisory: Interval 70 minutes
Dimensions: (L x W x H) 1.23 x2.26 x 0.45 in. (3.12 x 5.74 x 1.14 cm) typical
Weight: (including battery) 0.65 oz. (18.4 g)
Housing Material: ABS Plastic
Color: Black
Operating Temperature: 32°-120° F (0°-49° C)
Relative Humidity: 5-90% Non-Condensing
Battery: (installed) One (1) CR 2025 3V or equivalent Lithium coin battery
Certification: Anatel, ETL, FCC, IC, IFETEL, and NOM
Name: 2GIG 4-Button Key Ring Remote, Nortek Security & Control LLC, 2GIG
Category: 2gig, Intrusion & Smart Home, Wireless Alarm Systems, Intrusion Keyfobs
Country of origin: China. Country of origin is subject to change.